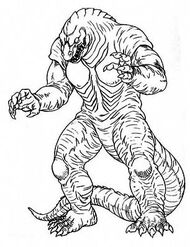 A huge and massive Zoanoid, witnessed by Mr. Murakami in New Guinea, where he had travelled to inquire into reports about monsters; this is where Chronos took him prisoner.
Bonga is bulky and very heavy, with a huge, tyrannosaur-like head and a powerful tail. In fact he strongly resembles a humanoid dinosaur.
Ad blocker interference detected!
Wikia is a free-to-use site that makes money from advertising. We have a modified experience for viewers using ad blockers

Wikia is not accessible if you've made further modifications. Remove the custom ad blocker rule(s) and the page will load as expected.