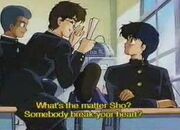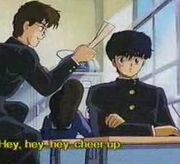 Takaya is a friend of Sho's, first seen in Out of Control when waking him from a daydream. He is also friends with Morio, who had mocked the pair earlier. Takaya soon joins in on the mockery.
After Takaya mysteriously drops to the floor, shot dead by a Chronos sniper, Mono and Sho are shocked. After the same happens to Morio, Sho flees the seen, finding the same has happened the school security guard.
Sho later swears to a Chronos agent to get revenge for them.
Takaya is named after Guyver creator Yoshiki Takaya.
Ad blocker interference detected!
Wikia is a free-to-use site that makes money from advertising. We have a modified experience for viewers using ad blockers

Wikia is not accessible if you've made further modifications. Remove the custom ad blocker rule(s) and the page will load as expected.